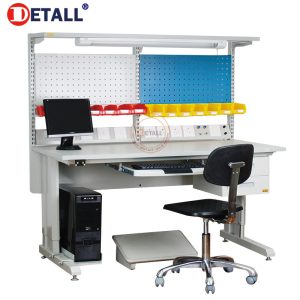 Our ESD Workbench with Chair is a high quality product. This bench is ergonomically designed for maximum efficiency and easy access to tools and equipment. It is easy to use and adjust work surface. It can be used in both ESD safe and non-ESD safe environments. The ESD Workbench is made from durable materials that are resistant to wear, tear and rust. The ESD workbenches can be customized according to your needs. This bench is ideal for electronic assembly lines, repair shops, electronics workshops, laboratories and telecommunications rooms. It is perfect for anyone who wants to make their work easy.
Major Qualities of Best ergonomic adjustable workbench ESD
As it pertains to promoting a wholesome workplace, the workstation could possibly be the best location to start. When employees have to utilize tables, workbenches, or desks that aren't made to their specific needs, they have a tendency to be less lively, more fatigued, and experience body pain more regularly. They also have a tendency to take an elevated number of suffering days scheduled to back pains and other work-related exhaustion. However, if you make the change to ergonomic adjustable workbench ESD your personnel will be better in a position to enjoy their workday.
Questions of best ergonomic adjustable workbench ESD
The modification range is large enough to match each employee's level.
They'll easily and quickly adapt to employees during a move or activity changes.
The workbench matches your existing equipment in an easy and a pain-free manner.
When employees are employing adjustable workbench ESD through the work week, they may be convenient than when by using a standard, non-adjustable workbench. The quantity of stooping, getting and twisting your employees do is reduced. The task involves them, alternatively than them needing to change their body to attain the work.
Manual, palm crank, or electric modification methods allow your employees to modify the workbench with their own personal preferences. When employees may easily modify their workbench, they are simply more likely to modify it to meet their ergonomic desk needs.
Whenever your employees are comfortable utilizing their assigned workbenches, offered by us, output increases. By buying ergonomic desk workstations, you are buying your employees. The entire cost of ergonomic desk furniture outweighs the worker's payment claims, decreased efficiency, and absence of energy at work you experience over summer and winter. Support a wholesome workplace by switching today.
Since 2006, Detall is rolling out, produced and allocated commercial strength ergonomic desk furniture. Throughout the previous decade, we've specialized in adjustable level work tables, adjustable workbench ESD, ergonomic desk workbenches, professional workstations, and retro-fit hydraulic lift up kits. Our products are not only up to the mark but at the same time and meet the global norms, they are available at the lowest possible price.