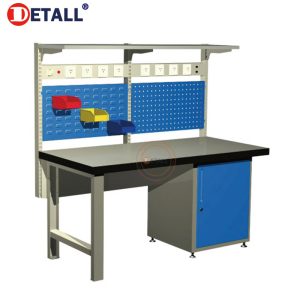 Our Steel Work Bench Heavy Duty is a great addition to any garage or workshop. Portable and easy to assemble, you can set it up anywhere in your workspace and quickly take it apart when needed. Our Steel Work Bench Heavy Duty is ideal for engineering industries such as in factories and workshops, especially when projects may require extra bench strength and the ability to withstand prolonged wear & tear. This is a firm yet practical bench with many securing points to hold materials firmly in place. Use this bench in such work environments where a heavy duty workbench is required.
Heavy duty Workbench ESD Ideal for Your Workplace
If you are a person who is constantly focusing on jobs, you better consider purchasing a top quality heavy duty workbench ESD. This is an extremely useful furniture piece for each and every man, especially to people who wish to focus on things throughout the house and the workplace. More than simply a spot to focus on, it also acts as an associate that never complains. It'll definitely make duties, even the tough ones, become less challenging and enjoyable.
Major Benefits of Taking a heavy duty Workbench ESD from Detall:
You could work onto it with any job that you may have and never have to stress if the furniture is designed for the pressure or not.
It'll surely last a considerably long time since it is often made out of durable materials.
At Detall. It is our major mission to provide our customers with the heavy duty workbench ESD that can last an eternity. It is made in such a wonderful manner that it can be offered to another generation.
Detall provides its clients with high quality and durable material workbenches which come in a variety of 4, 6, 8, 10, and 12 feet. Even after our products have been shipped and delivered to you, the Detall staff is just one call away to answer any follow-up questions. Our center handles the complete process in-house from manufacturing, planning, and shipping and delivery with a focus attention to quality control at each level. Detall focused on the needs of your business. It holds true that each workbench, provided by the Detall, created to last!!
The Detall is a manufacturer of material structured products since 2006 and offers its customers with some very nice workbench and storage area alternatives. Our experts will continue to work along to receive the perfect workbench construction for your need.  We manage the complete process in-house that is started from building to creation and delivery with the main attention to quality control at each level. The Detall produces the industrial products, including the heavy duty workbench ESD with a distinctive touch that can cover all your requirements in an easy and a pain-free manner.