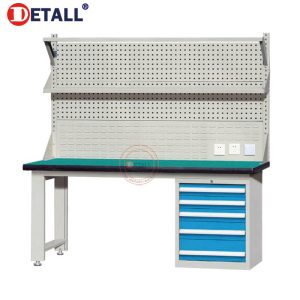 The rolling workbench is a convenient, versatile, and affordable solution for your workshop or garage. Get work done with our Industrial Rolling Workbench. Preferred by professionals, our Industrial Rolling Workbench is the latest addition to your workshop. The bench offers a convenient central unit that can store all of your projects and supplies. Keep your work space organized with our Industrial Rolling Workbench.
How to Get Best Industrial Workbench Easily
The industrial workbench, catered by Detall is suitable for large-scale production goal. They are heavy duty workbenches that contain similar advantages that traditional workbenches have. In addition, they can handle managing way heavier tons and heavy duty careers. Furthermore, the best workbenches are well suited for the minor job if you get excited about an inferior business. Besides, digital workbenches are suitable for electronic appliances.
These workbenches provide the benefits of a normal workbench yet on a more substantial and better size. These benches are for withstanding heavy-duty assignments and offer materials like metallic that are built for such purposes.
Why Use Detall Industrial Workbench
Using its smart appearance, the Detall industrial workbench, it comes in the form of the welded and produced by means of sheets and metallic pipes and are greatly well suited for applications which range from heavy executive to basic commercial use.
The specialized equipment and tools of the Detall industrial workbench are inclined to vibration very sensitive microscopic work and other heavy-duty work. The Detall workbenches permit the staff to do their activities perfectly that might need sitting or standing up. With the versatile settings, they suit the most strenuous requirements and job for the users, both in the industry and industrial setup. With the wide selection of features, industrial workbenches permit them to execute a manual activity in the most fruitful way.
Workbenches created for industrial purposes are usually made from strong and strong metals that can tolerate the excess pressure and weight. Many a times gizmos and equipment are also needed that you fix them onto the bench to permit the personnel does their process easily. This kind of equipment has a number of utilities also to make the most use of the huge benefits it is vital to find the right one.
It holds true that our industrial workbench is the future ventures for enterprises also to make the near future more secured it is quite crucial to make careful studies before choosing the right one. Workbenches have been made for tough industrial use are flawlessly appropriate in a number of commercial and industrial workplaces for a long period.