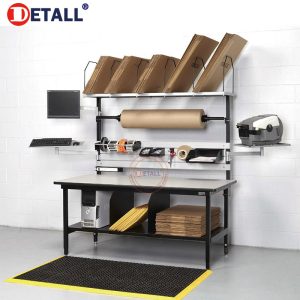 We have different sizes of packing tables suitable for all your needs. Our packing tables are made from high-quality materials, and they are guaranteed to offer the user a long-lasting performance. The tables come in different designs and shapes. The packing table comes with a clear top which makes it look elegant and easy to clean. The short structure makes it easy to use as they are perfectly positioned to make life easier. The packing table comes in upgraded designs. Fold after use to store them safely and perfectly to reduce chances of breaking or bending.
Excellent packing bench Which Can Cover All Your Packing Demands
In the packing bench, offered by Detall, the modules fit close by each other consistently, giving you and plausibility to construct an entire item packaging arrangement, perfectly relating your inclinations. Building packaging combos from varying, yet standard modules can enable you to make an ergonomically well-working item packaging arrangement which is likewise intense and fiscal. No reliance on expensive additional adjustments or bargains!
It's a definitive packing train station that comes loaded with all you have to process, stack up and dispatch demands. Providing a protected and ergonomic work area workstation, which comes loaded with bring down air pocket cover container, upper daily paper turn gadget, with tear club. There are two best cupboards, one for essential stockpiling territory and one with dividers for putting away holders and envelopes.
Detall packing bench obliges the most strenuous needs.
For all item packaging needs, no reliance on bargains!
Wide determination of modules, alternatives, and varieties
The biggest scope of embellishments on the commercial center
Strong, enduring, high caliber
No standard workbenches, they are basically a basic property for distribution center item packaging territories or any organizations that craft physical things. The packing channels inside our range offer extraordinary moderateness. They will help you frequently circulate well appeared and securely stacked packages to your guests. Too to be solid for day by day utilize, additionally, they are intended to conform to meet the majority of your changing packing necessities.
Keeps up basic introduction frill close by.
Our collection of the packing bench is made for use with different adornments that improve their proficiency. Additional racks can be mounted on store things, for example, lessening blades, tape and envelopes, keeping them close to the packer.
Packing stations are frequently designed to fit your particular needs. With various diverse packing alternatives to browse, you're certain to get the ideal packing answer for your work region here. Our secluded packing bench will come in parts, prepared with the goal that you can pick the highlights and extras you will require. This suggests you can make a packing stop which takes into account an alterable working stature and additional solace, decreasing the possibility of weight or damage.